It occurs to me that I haven't done a new blog since last year so here goes another. It is hard to believe we are already into mid-February and I'm taking it as a good sign that this early in the year I've been busy gigging and producing online lessons in addition to writing songs for a new release. So here's what's been on tap so far this 2019.
On January 19, I had the pleasure of playing with my father, Happy Traum, in Sonoma, for a KC Turner Listening Room show at the HopMonk Tavern. It was a really special show where we traded songs and got to spend a few hours performing together. I'm always amazed at Happy's continual growth as an artist and curiosity as a musician, even at the spry age of 80! I played a few new songs and my bassist and brother from another mother, Jack Hines joined us on stage for about half the set. The nearly sold out crowd loved it and quite a few people sent me emails to let me know how fortunate they felt to have been there. As I get older I realize how experiences like these are what we and others take with us, and how truly remarkable these moments are.
For the second year in a row I braved the 2019 NAMM Show in Anaheim, California, where I saw some old friends, met some new people including two killer jazz guitarists Lisa Liu and Paul Asbell. Asbell has a great new CD out. I also visited with my old pal Teja Gerken, and relatively new pals Eric Skye and Mark Goldenberg. I also did a 2018 show with Goldenberg who blew me away.
At the NAMM show I fell in love with guitar models at the Santa Cruz Guitar Company booth as well as few Bourgeois guitars and a killer electric made by George Lowden. I got to hear James Nash pick a little both at the Santa Cruz Guitar party and at their booth. I also did some reconnaissance in the microphone and software section since I've been embarking on building a basic home studio. Man alive! Talk about a deep rabbit hole.
On February 2, I did a double header and covered some serious miles. I did a workshop at Gryphon Stringed Instruments in Palo Alto, California, which was a lot of fun and then played as part of a songwriter in-the-round night at the Mudpuddle Music shop in the Niles Canyon district in Fremont, California, with Michael McNevin and Chris Hansen. These two artists played great songs and I felt honored to be in their company. The tiny room hosted a sold out crowd that was attentive and responsive and are true music fans. If you are in the Bay Area try to catch a show at Michael's shop. It's cool and funky and one of a kind.
On February 9, the Straw Wattles, featuring Jack Hines and Josh Yenne, played at the HopMonk Sonoma and we had a blast. I genuinely love playing with these guys. We share the lead vocals and stretch out on some jams as well. If you haven't had a chance to catch this lineup you should. My compatriots are each badasses in their own rights and together the joy we have playing together and mutual respect for each other shows up each time we play.
I also released a new downloadable video on Homespun Music Instruction called Take the Lead!  which is a basic lesson on developing leads. Last July I also released Basic Mandolin for Guitar Players, which has sold very well and is a great intro for guitar players who have an interest in playing mandolin. I am about to produce another video on ukulele for Homespun as well.
I am attaching a new song called "Something Good" which I really like and has had a good response when i've been playing it live. You can also check out my SoundCloud page for more of my songs. Keep your eye out for another Live From the Kitchen Table podcast where I am going to invite some friends in studio to pick a few songs and share some mic time.
I will be doing my best to keep up with my blog posts and do them as close to monthly as I can. Thanks for taking a little bit of time to check this out!
Adam Traum
www.adamtraumguitar.com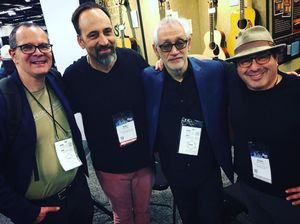 Hanging at NAMM with guitar playing heavies Teja Gerken, left, Eric Skye and Mark Goldenberg.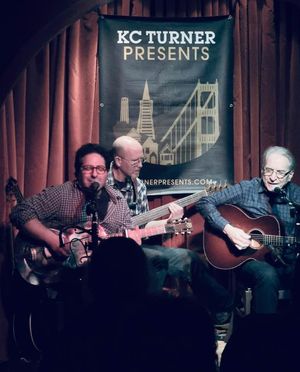 Playing at the HopMonk Tavern with Happy Traum, right, and Jack Hines, center. Photo by Jane Traum