Posting to my blog with some regularly is more challenging than I thought when I made that goal at the start of the year. It seems like time both creeps and flies all at the same. The days have compressed together, and I'm fighting the good fight to stay sane. Some days I am more successful at keeping my head up. I remain grateful to be healthy in a safe place with a roof over my family's head and power, unlike many of my friends in Texas. I have work, albeit less than usual, and thankfully my wife is rocking her job. We are truly fortunate in that way, and there is a light at the end of the tunnel.
In music news, I was invited to perform at the monthly virtual Greenwich Village Folk Festival on Easter Sunday, April 4, at 4pm, Pacific and 7pm EST. I will announce it formally soon, but keep your eyes peeled for the announcement. I am also looking forward to playing MerleFest in September, and the Woodstock Invitational Luthier's Showcase in October.  
In addition to teaching online and a few in-person, outdoor lessons, I have been working on several Homespun Music Instruction projects. I just released "A Six-Pack of Moveable Blues Licks" that I am really proud of. It takes closed shapes and teaches how to move some great licks around the guitar fretboard. There are practice tracks in multiple keys that help with getting the licks down! 
I also just finished editing my upcoming lesson "The Ukulele Club," due out in late March or early April. It is based on my past ukulele group classes. There are a bunch of neat tunes and techniques to really get a beginning student playing.  
My latest CD, "Legacy" has been getting positive feedback and mentions in print and online. A majority of it was recorded during the pandemic. Legacy evolved naturally from some home demos of my originals into an intimate collection of tunes. It is easily the most personal collection of songs on an album to date, and I'm really proud of how it came out. The aim of the project was to celebrate my family's musical heritage, and carry that legacy to the next generation.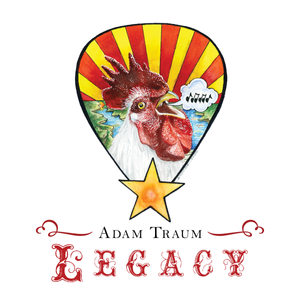 While recording Legacy, my trio, Wolf Run started recording our first project. We have all our basic tracks done, including most of the vocals. There are some solos to add, then it's time to mix, master and get it out. So look for that in the mid-summer. I can't wait to start gigging again and will be keeping you updated when that finally happens again!
Stay well, and I look forward to days when we can all be  together.  
Adam Traum 
adamtraumguitar.com 
Links to my lessons on Homespun: 
https://www.homespun.com/instructors/adam-traum/ 
Legacy Links: 
Bandcamp (download): https://amtraum.bandcamp.com/releases 
(Physical copies available through adamtraumguitar.com)