It's been a great summer of traveling, playing and writing. In Early July I went back to the East Coast and did an amazing show to celebrate Pete Seeger's 100th birthday. I was asked by my father, Happy Traum to join a great ensemble featuring Jay Ungar and Molly Mason, Simi Stone, Tony Trischka, Liz Mitchell and Dan Littleton. We did two sets and each performer led a few songs each. It was a stormy night everywhere but the Maverick Concert Hall, a historic and gorgeous building. It was like Pete was watching over the night's music and he alone held off the rain!
At some point during the evening of music it went from a wonderful night where everyone was enjoying the performances to something else. The sound of the voices singing harmonies and later the audience singing along with the encore of "We Shall Overcome" made the hall shake in a resonant hum that felt more like a church service than a concert. It was recorded and archived by the Smithsonian Institution and I hope to be able to share the concert in the near future. I don't know if the energy will translate to video but I look forward to hearing the music again.

L-R: Jay Ungar, Adam Traum, Liz Mitchell, Dan Littleton, Happy Traum, Tony Trischka, Simi Stone, Molly Mason  
Photo by Jane Traum
From Woodstock I met up with Colin Gilmore where we played two nights of house concerts in a gorgeous house built in the 1800's in Camden, NJ. We played varied sets acoustically with small but responsive audiences of 20-30 people each night. The acoustics were amazing and the second night's show can be heard at https://archive.org/details/atcg2019071009/AT%26CG2019-07-1004.flac. 
We were also treated to a tour of the new Victor Recording Company building a few towns away in South Jersey and it was such a fun experience. They have resurrected the label and I had forgotten how influential the Victor label was. 
From the Philadelphia area we met up with our good friends Pete and Maura Kennedy and played in my old stomping grounds of Vienna, Virginia, at Jammin' Java, a great hall with a fantastic audience. It is always a pleasure and an honor to play with the Kennedys. They are such pros and amazingly cool people. I wish I saw them more!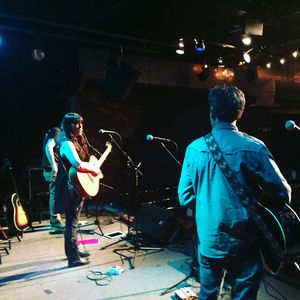 L-R: Pete and Maura Kennedy and Colin Gilmore at Jamin' Java
After a night of rest in Old Town Alexandria, Colin and I wandered around, got some lunch and then headed up to Oxford, PA., to meet up with the Kennedys for for our second of three shows together. We were playing in a beautiful church in Southeastern Pa., and we had a really responsive crowd. The organizers were really great to work with and I look forward to playing there again. After the show Colin and I stayed with a friend of his and Charlie hooked us up with a late night dinner and a place to sleep. We had a nice morning hang and I got to swim in Charlie's saltwater pool as my shower before rolling up to New England.
On the ride up we live-streamed Colin's grandfather's funeral which was touching and I felt like I got to know his Grandfather Dan in a touching ceremony. It was a pretty brutal ride up to Tiverton, RI, but we made it in time for sound check and played a great last show with the Kennedys. It all ended too soon and as always it's hard to say goodbye to such great friends. 
After the show we got back in the car and drove to stay with Bob Borden, an old teacher of mine in Guilford, CT. Bob I had been back in touch with after many years. He is a great guy and he and his wife Margaret have a lovely house just outside of New Haven.
The next morning I dropped Colin at the train in New Haven and I headed back to Woodstock for a few days to visit my family. It's always a funny feeling after traveling with someone for so many miles to find yourself alone in the car by yourself. I eventually got back to Woodstock, NY, after being re-routed several times to Woodstock, Vermont. Technology!
I get a little afternoon nap in and a walk with my dad at Cooper Lake and then we got some dinner. After dinner I crashed hard and basically slept until the next morning. The next day I saw my sister and her family and left early on a Tuesday ready to sleep in my own bed and see my wife and son. The trip was uneventful except for being a little cramped. I finally got home to an excited dog and non-plussed cats.
For a few days I was a morning person on East Coast time but quickly reverted to my nightcrawler status which was compounded but a weekend of gigs in Virginia City, NV, at the Red Dog Saloon with Wolf Run (electric), my trio with Jack Hines and Kendrick Freeman. We took two cars up as Jack was going on a short adventure after VC, so i split my time with the two drivers on the way up.
We got to the Red Dog and saw Loren and Sue Purcell and as always it was great to see them as well as good friends Glen Buschine and Molly Malone, two great musicians in their own rite. We played the first night and it sounded really good but there were a few things to iron out as it was our only second gig with Kendrick on drums. Saturday we took some time to figure some things out and we had a fantastic show with a good arc of material and solid attendance. After the show we bellied up to the bar and had a birthday drink with Sue and Loren. It was her birthday and it was the least we could do. 
We stayed a cool B and B with a guy named Bud who just opened and was a great host. It was a cool 1850s house with tall ceilings and was nicely renovated. The views of the mountains and valleys were pretty incredible and it was a nice place to call home for a few days. I have to mention that he had a cattle dog named Tic who really ran the show! 
Kendrick and I got up earlier than I would recommend and headed back down to the Bay Area and we made it back about 1:00, enough time for me to crash hard for a few hours before my wife and son got back from an outing. I love traveling and feel fortunate to get to play all over, but there is something special about coming home to the familiar where my coffee tastes like it should and I can hug my boy and kiss my wife.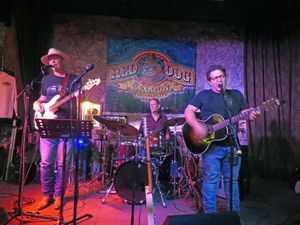 L-R: Jack Hines, Kendrick Freeman and Adam Traum
Photo by Molly Malone