My favorite forms of exercise these days are swimming and taking my dog on long walks (no this isn't a personal ad!). I never belonged to a swim team or anything like that but I joined the local pool about five years ago and eventually started swimming twice a week with some really great athletes who were college and olympic competitors that put up with my slow but burgeoning strokes.
After a particularly hard workout in the pool I had a message to call my mom as soon as possible. No one ever wants to hear a voicemail like that! It turned out my dad had laryngitis and couldn't make MerleFest for the first time in 30 years. Homespun, my family's business has a workshop stage that Happy emcees every year and we had decided that I would skip this year a few months ago. I was able to sub out my gigs and cancel my lessons and within a day had booked a flight from San Francisco to Charlotte, NC. I slogged out of bed at 2:30 on Thursday morning and left for the airport and made it to Wilkesboro, NC, by the Thursday night.
I was lucky enough to catch the last half of Kris Kristofferson's set and heard him play one the finest songs ever written, "Sunday Morning Comin' Down." After that Robert Earl Keen came out and killed it. What a start to the festival. I had an early workshop on Friday to get to and was pretty spent by the time REK finished with a rousing version of "The Road Goes On Forever." 
I got to the Homespun Stage and saw the stage manager, Karen, the sound man, Greg and Jim who was doing tech on the stage. They were totally professional as I knew they were from years past and the weekend started with a very nice workshop on thumb picking with Mike Palmer and Larry Nixon. It was a great start to the weekend's music and we were joined by a few terrific young pickers, Josh Gilforth and Jonah Horton. All these guys can flat out play!
As I settled in to my role as emcee, holding down the fort the day rolled on. A few standouts included Rosie and the Riveters, Roy Book Binder's "Greatest Blues Show on Earth," which I was proud to play a song on. He also turned me on to two new names to me who were incredible, Jody Carroll and Richard Ray Farrell. Roy is always entertaining and never ceases to amaze me watching his unique right hand style. 
Friday concluded with stories about traveling with Doc Watson with Jack Lawrence, T. Michael Coleman, Joe Smothers, Bob Hill and David Holt. It made me miss seeing Doc at MerleFest but his memory was properly celebrated and made me proud to have seen him play as many times as I did. 
Friday night was a late night watching Mandolin Orange, Bela Fleck and Abigail Washburn, topped off by Southern rocker and country star Jamey Johnson who has pipes to kill for. As I wound down and crawled into my Holiday Inn Express bed, which made me feel no smarter, but was appreciative of all the same, I drifted off to sleep hearing echoes of the bluegrass root-fives.
Jet lagged and tired, Saturday was a hard wake. I downed some coffee had some rubbery eggs and made my way to the Homespun Stage to do a one-hour workshop that I thought would be empty but to my surprise there were actually people there who asked questions and were engaged. Who knew the festival crowd could be so hearty? I'm not surprised, really.
Still feeling a little like I was standing in the shadow of my dad I did my best to keep things running. It felt a little like I was missing a tooth without him there since my longest memories are of my folks being there.
My workshop was followed by Richard Ray Farrell's who channels old blues players and is deep in that tradition. Seeing him sitting in the corner as I was teaching a blues song I felt a little bit like a poser but I suppose I've spent enough time digging into old records that it's just my own insecurities and neurosis of which I have many! Richard, who I felt a real kinship to played like the devil and I was transported to the days of staying up late with my buddy Javier in Savannah, where I lived from 1995-2000. We used to stay up all night drinking whiskey and trying to figure out Blind Blake licks. 
I was spelled for a while for a lunch break but felt compelled to introduce my long-time friends Marcy Marxer and Cathy Fink. These two women are known for doing kids shows but don't be fooled. They can play as well as anyone out there which they quickly demonstrated that opening their set with the Django tune "Dark Eyes" on uke.
I was taken aback by the depth and power of songwriters Si Kahn and Joe Jencks. I hadn't heard Joe before and his voice was as powerful and his guitar playing was impressive. He did a song he wrote with veterans that left no dry eyes in the room. 
Jody Carroll did a set that was potent and a lot of fun. He and his girlfriend Sigrid were incredibly gracious and sweet. We spent a lot of time jawing getting to know each other and I'm sure we'll see each other again down the road.
Mitch Greenhill closed the stage out with his presentation on being "Raised by Musical Mavericks." He presented slides, played a little and although it was too sparsely attended and should have been earlier or even scheduled for Friday, I was profoundly moved by his stories.
One of the hard things about running the stage was that I caught very little music relative to what was going on in The Pit. So many great acts were there but Saturday night I managed to catch Sam Bush who is always stellar and finally got to see Jim Lauderdale with Buddy Miller and the North Mississippi All Stars. What a set! Buddy played "Wide River to Cross" and the range of material was awesome. I was left feeling a great reverence for the breadth of music that is out there and all the amazing performers' skills. 
After the final set was over on Watson Stage I went to the Midnight Jam and caught Mandolin Orange playing with Tommy Emanuel, who I would have the chance to meet and hang out with on Sunday, Buddy Miller played "Bright Morning Stars" that was incredibly powerful. I worked up the nerve to introduce myself to Buddy and he couldn't have been nicer! I also got to chat with Luther Dickison whom I had met years ago in New Orleans.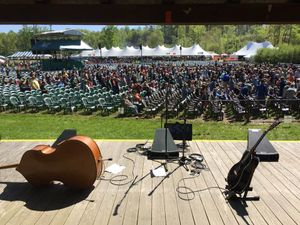 Sunday was equally hard to crack my tired eyes open but I had a Cabin Stage set with Joe Kyle on bass so I was also excited. We met at the Hampton Inn for more pre-cooked eggs and sausage and the always needed coffee. We ran down our tunes and set up on the Cabin Stage. I had to calm my nerves with a few deep breaths looking out over the expanse. For so long playing with my father at MerleFest gave me a certain amount of security and confidence that my playing would be accepted and this was the first time I was flying solo.
While I was missing Happy being there I was also looking forward to seeing how my own style and original songs would go over. I felt really good about my set. The cobwebs were expunged from my pipes in our rehearsal and I turned out to be in good voice. Having Joe there was so helpful too since I have an injured right middle finger which has impacted my fingerpicking. I can still do it but not with the same flow as when I have the use of my middle digit. After our set we got a lot of great feedback and I think I may have at least a new fan or two. 
After my set I caught the always-inspiring Alison Brown and later the Steep Canyon Rangers with Steve Martin. I also got a chance to hang with Jerry Douglas and Tommy Emanuel for a little while. They were so fun and it was good to get to know them a little bit.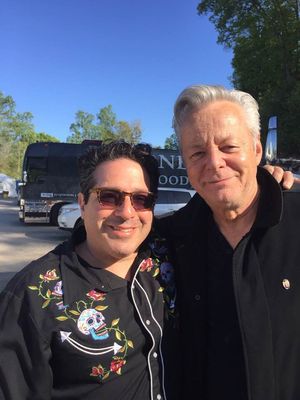 While I wish I could have been at MerleFest under better circumstances, I was grateful I could sub out my West Coast gigs and be there for my family to represent Homespun and my family. I don't know if I could have pulled it off as easily five or ten years ago but sometimes being thrust into something gives you the opportunity to show what you have.
I'm happy to report that my dad is on the mend and hopefully our next MerleFest will be together. I also have to acknowledge my wife for insisting that I needed to go and help out while she picked up the slack of watching our son. I also saw too many other friends, new and old, to mention in this blog but suffice it to say I'm grateful for the opportunity to be making music and be a part of something I love.